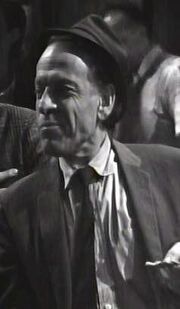 Wilbur Strake was a private investigator from New York, hired by Burke Devlin to investigate the Collins family and their associations.
Strake came to Collinsport two weeks before Burke, posing as a real estate salesman (1, 21). After Burke arrived and got his report, he sent Strake back to New York with a bonus (3). Strake continued his investigation by visiting the Hammond Foundling Home and questioning Mrs Hopewell about Victoria Winters and why she was hired by Elizabeth Collins Stoddard (8).
The Collins Family eventually found out about Strake and Burke explained that he'd hired him to investigate the financial opportunities in town (21).
Strake was married, but his wife couldn't wiggle quite as well as Carolyn Stoddard (2).
Appearances
Edit
Ad blocker interference detected!
Wikia is a free-to-use site that makes money from advertising. We have a modified experience for viewers using ad blockers

Wikia is not accessible if you've made further modifications. Remove the custom ad blocker rule(s) and the page will load as expected.