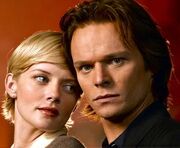 Victoria Winters
was portrayed by
Marley Shelton
in the
WB version
of
Dark Shadows
.
Unlike previous versions of the character, this version was blonde and portrayed as a specialist with troubled children, hence her being hired to tutor David Collins. She almost immediately befriended Carolyn Stoddard as well as establishing the beginning of a working relationship with David.
Upon meeting Barnabas Collins she felt an immediate rapport, even saying as much. Later, upon visiting the Old House he revealed the hitherto-sealed bedroom of Josette DuPres Collins. That night, Victoria's car seemed to strike a woman headed back to Collinwood, apparently the resurrected Angelique who crashed through the car's windshield. Rather than suffering any injury, Angelique looked at Victoria in the eye and screamed!
Thus ended the episode on a cliffhanger.
Ad blocker interference detected!
Wikia is a free-to-use site that makes money from advertising. We have a modified experience for viewers using ad blockers

Wikia is not accessible if you've made further modifications. Remove the custom ad blocker rule(s) and the page will load as expected.