We've seen him as Willy Wonka, and we've seen him as a pirate...naturally, playing a vampire is his next step.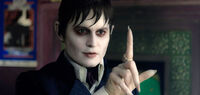 Johnny Depp and Tim Burton are clearly working together again, if proven only by Depp's ghastly pale skin and dark circled eyes. Dark Shadows will be a film adaptation of the cult soap opera Dark Shadows which ran from 1966 to 1971. Get ready for Dark Shadows (2012) opening on May 11.
Take a look at the poster picture below and the exciting new trailer! Are you going to be seeing Dark Shadows in theaters? Comment below and tell us what you think!

Source: Yahoo
Ad blocker interference detected!
Wikia is a free-to-use site that makes money from advertising. We have a modified experience for viewers using ad blockers

Wikia is not accessible if you've made further modifications. Remove the custom ad blocker rule(s) and the page will load as expected.