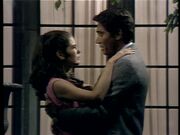 The
terrace
at
Collinwood
is located off the
west wing
. There is a
fountain
,
bench
, and
statuary
, as well as several trees, shrubs, and other plantings.
The terrace is frequently used for clandestine meetings. Whether they be of the amorous or amoral variety, they are most certainly usually nocturnal. There are various windows, nooks, and crannies where eavesdroppers and voyeurs may do so freely.
Adam frequently observed others meeting here, such as Carolyn and Tony (577/578).
Ad blocker interference detected!
Wikia is a free-to-use site that makes money from advertising. We have a modified experience for viewers using ad blockers

Wikia is not accessible if you've made further modifications. Remove the custom ad blocker rule(s) and the page will load as expected.