Ad blocker interference detected!
Wikia is a free-to-use site that makes money from advertising. We have a modified experience for viewers using ad blockers

Wikia is not accessible if you've made further modifications. Remove the custom ad blocker rule(s) and the page will load as expected.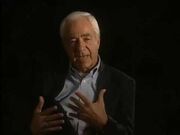 Sy Tomashoff was a scenic designer on the original Dark Shadows. He has since won multiple Daytime Emmys for his work on other daytime series, including Ryan's Hope, Capitol, and The Bold and the Beautiful (the Daytime Emmy Awards had not been established while Dark Shadows was on air). In the Dark Shadows Almanac (1995), Tomashoff gleefully recalled going back to his Dark
Shadows roots when a Bold and the Beautiful storyline required a dungeon set for a house supposedly owned by legendary illusionist Harry Houdini: "What a great opportunity this was for me to delve back into my old bag of tricks. Twenty-five years later I've got a chance to create yet another chamber of horror... The project made me feel like I had really come home again. We even included candles and cobwebs."
Episode 5 incorrectly spelled his last name "Thomashoff."
Episodes credited
Edit
5, 10, 11, 15, 19, 20, 23, 27, 28, 30, 42, 47, 48, 50, 54, 57, 58, 61, 70, 74, 75, 88, 89, 92, 99, 103, 107, 111, 113, 114, 118, 124, 126, 134, 135, 140, 141, 143, 144, 159, 161, 162, 165, 173, 174, 178, 181, 193, 194, 195, 196, 198, 206, 207, 210, 212, 215, 218, 221, 223, 230, 245, 246, 248, 250, 254, 255, 263, 265, 269, 271, 272, 273, 275, 277, 278, 279, 409, 413, 419, 420, 422, 423, 424, 425, 465, 466, 468, 471, 472, 473, 475, 483, 486, 488, 491, 492, 493, 495, 496, 498, 500, 501, 502, 505, 511, 513, 514, 515, 516, 517, 518, 520, 521, 524, 537, 538, 539, 540, 547, 551, 552, 553, 554, 558, 559, 560, 561, 562, 563, 564, 566, 568, 570, 571, 573, 574, 577, 578, 579, 584, 585, 586, 589, 590, 591, 592, 593, 594, 599, 600, 603, 702, 703, 704, 712, 718, 719, 720, 721, 722, 724, 726, 727, 728, 729, 730