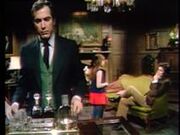 The
settee sofa
in the
drawing room
was the setting where numerous and various secrets were revealed.
Green Velvet
Edit
The green, velvet-upholstered settee sofa in the drawing room appears during the years 1966 to 1971 of the series, never seeming to be repaired, replaced, or re-upholstered.
Sit Down
Edit
Numerous and various secrets, sorrows, and stories were shared while sitting on the settee sofa in the drawing room. Many residents and guests discovered that revealing their secrets was not safe after sitting on the comforting couch. Sorrows and tragedy often befell those who sat or slept on the davenport of despair. Still, others would soon discover that they became the talk of the town subsequent to telling lies, half-truths, and less-than-true stories while resting on the deceptive divan.
Ad blocker interference detected!
Wikia is a free-to-use site that makes money from advertising. We have a modified experience for viewers using ad blockers

Wikia is not accessible if you've made further modifications. Remove the custom ad blocker rule(s) and the page will load as expected.