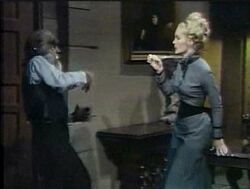 The silver pentagram was a medallion. It was the first piece of silver jewellery created by Ezra Braithwaite, a 15 ½ year old silversmith in Collinsport, on April 16, 1897. It was commissioned by Beth Chavez and charged to the account of Quentin Collins. It contained the inscription "To guard you from the wrath of Cerebus" in Latin. It was found in 1969 when the ghost of Beth Chavez led Barnabas Collins and Chris Jennings to the unmarked grave of an unidentified infant (684).
The Ghost of Quentin Collins ordered David Collins to steal the silver pentagram (685). Quentin then intercepted a telephone call from Ezra Braithwaite (who was now an old man) and scared him to death at Collinwood before he could pass the information about the creation and purchase of the piece onto Barnabas Collins. He also took the ledger which contained the information into the west wing (685).
Ad blocker interference detected!
Wikia is a free-to-use site that makes money from advertising. We have a modified experience for viewers using ad blockers

Wikia is not accessible if you've made further modifications. Remove the custom ad blocker rule(s) and the page will load as expected.