Ad blocker interference detected!
Wikia is a free-to-use site that makes money from advertising. We have a modified experience for viewers using ad blockers

Wikia is not accessible if you've made further modifications. Remove the custom ad blocker rule(s) and the page will load as expected.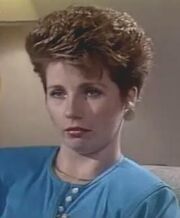 Sharon Smyth
(born Nov. 29, 1957) joined
Dark Shadows
in June
1967
playing the ghost of
Sarah Collins
, the tragic little sister of
Barnabas Collins
.
Smyth was no stranger to soap operas, having already played Susan Carter in Search for Tomorrow. At the age of nine, Sharon enjoyed her time on the show, finding the whole experience like "a great game of make-believe." After leaving Dark Shadows in 1968, Sharon tried becoming an ordinary kid, entering public school in New York.
In an interview years later, Smyth was apologetic for letting her fan mail go unanswered from her days on Dark Shadows. She has made occasional appearances at Dark Shadows conventions, although she admitted that her son's birthday often provided a conflict. A mother of three, Sharon now lives with her husband and children in Bucks County, Pennsylvania.
Appearances:
Edit
255, 256, 258, 260, 264, 276, 278, 281, 286, 292, 294, 297, 305, 306, 310, 314, 315, 321, 325, 326, 327, 331, 332, 335, 336, 344, 348, 360, 361, 363, 364, 366, 389, 399, 413, 414, 415