Secret
Talk

0
2,878pages on
this wiki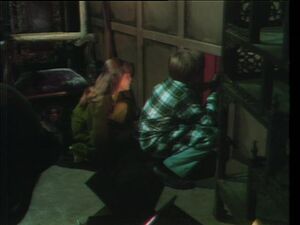 Throughout the Collins property, there are numerous secret chambers, dungeons, panels, passageways, rooms, and staircases.
Look for the secret room in the Old House parlour. The Collins' family mausoleum hides many secrets in the inner chamber. Quick escapes can be made from the drawing room as well as some of the bedrooms in Collinwood.
The secret panel makes its first appearance when Roger touches the button on the cabinet next to the panel to open it.  Roger prowls through the dusty corridors, down steps, then up a spiral staircase and comes out on the other side of the room Vicki is locked in (87, 88).
David and Amy also use the secret panel in the drawing room to sneak visits with Quentin in the west wing (643, 648, 656, 657). In later episodes this panel is opened simply by pulling on it. Quentin exits from the secret panel into the drawing room in order to quietly sneak up on Ezra (685).  Liz states that the secret panel leads to the west wing but that it "has not been used in years" (692).
Appearances
Edit