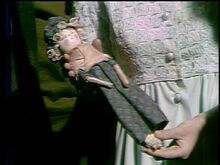 Sarah's doll was a hand-made doll that she would often cradle and sing "London Bridge" to. Sarah gave Maggie Evans this doll to make sure Maggie would never forget her and to keep her safe. When Sarah discovered that Maggie had forgotten her, she demanded her doll back. (297)
Ad blocker interference detected!
Wikia is a free-to-use site that makes money from advertising. We have a modified experience for viewers using ad blockers

Wikia is not accessible if you've made further modifications. Remove the custom ad blocker rule(s) and the page will load as expected.