Ad blocker interference detected!
Wikia is a free-to-use site that makes money from advertising. We have a modified experience for viewers using ad blockers

Wikia is not accessible if you've made further modifications. Remove the custom ad blocker rule(s) and the page will load as expected.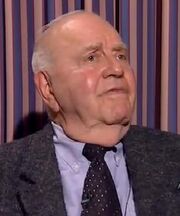 Sam Hall
(b. March 11, 1921-September 26, 2014) was an American writer who worked on the original
Dark Shadows
television series, the
1991
Dark Shadows
revival series, and the films
House of Dark Shadows
and
Night of Dark Shadows
. He also worked with series creator
Dan Curtis
, writing scripts for the 1973 television movie
Frankenstein
and 1975's
The Two Deaths of Sean Doolittle
, directed by frequent
Dark Shadows
director
Lela Swift
. Hall began work on
Dark Shadows
in November 1967, several months after his wife
Grayson Hall
had joined the program (June 1967). Among his many contributions to the show include the creation of the character
Angelique
.
Sam was born Allison Samuel Hall in Carrollton, Ohio, and graduated from Dartmouth and Yale. A veteran of the World War II Battle of the Bulge, Sam Hall was married to Dark Shadows star Grayson Hall in 1952. Their son, Matthew, later worked with his father on scripts for the soap opera One Life To Live as well as the 1991 Dark Shadows series. Despite many scenes from that series being liberally adapted from his work, Hall did not receive screen credit until Episode 4.
In the October 9, 1971 issue of TV Guide, Sam Hall contributed an article entitled Here's What Really Happened to Barnabas & Co. This article described the future fates of all of the major Dark Shadows characters following the final story arcs from the series which would have been filmed had the show not been cancelled. A teleplay of this article was provided as part of a documentary entitled Beyond the Shadows on Volume 200 of the MPI Dark Shadows VHS collector's series, as narrated by Roger Davis. Hall went on to write for other daytime serials including General Hospital, One Life to Live and Santa Barbara.
Episode credits
Edit
357, 358, 359, 365, 368/369, 370, 373, 374, 375, 377, 378, 379, 382, 383, 384, 392, 393, 397, 402, 403, 409, 410, 414, 415, 421, 426, 427, 431, 432, 434, 439, 440, 443, 446, 449, 450, 455, 456, 460, 461, 462, 463, 466, 467, 468, 474, 475, 481, 482, 485, 496, 491, 495, 500, 501, 502, 507, 508, 509, 510, 511, 519, 520, 521, 522, 527, 528, 536, 537, 538, 546, 547, 548, 549, 550, 551, 563, 564, 565, 570, 571, 576, 577, 582, 583, 586, 587, 591, 592, 596, 597, 602, 608, 609, 614, 615, 620, 621, 630, 633/634, 636, 640, 641, 642, 647, 648, 655, 660, 661, 674, 675, 678, 679, 684, 685, 686, 694, 695, 696, 697, 698, 701, 702, 706, 708, 709, 715, 716, 718, 719, 725, 726, 727, 734, 735, 740, 741, 745, 746, 747, 754, 755, 758, 759, 763, 764, 771, 772, 773, 779, 780, 783, 784, 785, 796, 797, 798, 799, 801, 808, 809, 814, 815, 822, 825, 833, 834, 839, 840, 845, 846, 849, 850, 853, 854, 858, 859, 860, 863, 864, 872, 873, 874, 879, 880, 885, 890, 891, 899, 900, 901, 902, 907, 908, 911, 912, 923, 924, 931, 932, 936, 937, 941, 943, 944, 950, 951, 953, 956, 957, 963, 964, 969, 970, 975, 978, 979, 981, 982, 990, 991, 997, 999, 1003, 1004, 1007, 1011, 1015, 1016, 1020, 1024, 1025, 1028, 1029, 1030, 1034, 1038, 1039, 1043, 1044, 1049, 1050, 1054, 1058, 1061, 1062, 1063, 1069, 1070, 1073, 1074, 1081, 1082, 1087, 1088, 1092, 1093, 1094, 1095, 1099, 1100, 1106, 1107, 1110, 1111, 1112, 1113, 1120, 1121, 1122, 1124, 1126, 1127, 1130, 1131, 1132, 1133, 1138, 1141, 1142, 1146, 1147, 1148, 1151, 1154/1155, 1156, 1160, 1161, 1162, 1163, 1164, 1167, 1169, 1173, 1174/1175, 1176, 1177, 1182, 1183, 1184, 1189, 1191, 1194, 1196, 1198, 1199, 1200, 1204, 1205, 1206, 1210, 1213, 1215, 1217, 1245
Film credits
Edit
External links
Edit