Ad blocker interference detected!
Wikia is a free-to-use site that makes money from advertising. We have a modified experience for viewers using ad blockers

Wikia is not accessible if you've made further modifications. Remove the custom ad blocker rule(s) and the page will load as expected.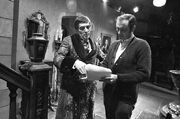 Robert Costello (
April 26, 1921 - May 30, 2014) produced the first 880 episodes of the original
Dark Shadows
.
www.emmytvlegends.org/interviews/people/bob-costello#
After leaving
Dark Shadows
, Costello served as executive producer of several soap operas, including
Strange Paradise
,
The Secret Storm
,
Ryan's Hope
,
Another World
, and
The Doctors
. In addition, he produced the critically acclaimed 1976 PBS miniseries
The Adams Chronicles
. Costello won two Daytime Emmy awards in 1976 and 1978 for his work on
Ryan's Hope
.
Producing credits
Edit
1, 2, 3, 4, 5, 6, 7, 8, 9, 10, 11, 12, 13, 14, 15, 16, 17, 19, 20, 21, 22, 23, 24, 25, 26, 27, 28, 29, 30, 31, 32, 33, 34, 35, 36, 38, 39, 41, 42, 43, 49, 50, 51, 52, 53, 54, 55, 57, 58, 59, 60, 62, 63, 64, 65, 66, 67, 68, 69, 70, 71, 72, 73, 74, 75, 88, 89, 90, 91, 92, 93, 94, 95, 96, 97, 98, 99, 100, 101, 103, 104, 107, 108, 111, 112, 113, 114, 115, 116, 117, 118, 121, 122, 124, 125, 126, 127, 128, 129, 132, 133, 134, 135, 136, 137, 138, 139, 140, 141, 142, 143, 144, 145, 146, 148, 149, 150, 151, 152, 153, 154, 155, 158, 159, 160, 161, 162, 163, 164, 165, 166, 167, 168, 169, 171, 172, 173, 174, 175, 176, 178, 179, 180, 181, 182, 183, 184, 185, 186, 187, 190, 191, 192, 193, 194, 195, 196, 198, 199, 200, 202, 203, 204, 205, 206, 207, 208, 209, 210, 211, 212, 213, 214, 215, 216, 218, 220, 221, 222, 223, 224, 225/226, 227, 228, 229, 230, 231, 232, 252, 253, 255, 256, 257, 263, 264, 265, 267, 268, 269, 271, 272, 273, 274, 276, 277, 278, 279, 409, 413, 419, 420, 421, 422, 423, 424, 425, 426, 461, 462, 463, 464, 465, 466, 467, 468, 471, 472, 474, 475, 476, 481, 482, 483, 485, 486, 488, 491, 492, 493, 494, 495, 496, 498, 499, 500, 501, 502, 503, 504, 505, 506, 508, 509, 510, 511, 513, 514, 515, 516, 517, 518, 519, 520, 521, 524, 528, 537, 538, 539, 540, 541, 542, 543, 544, 545, 546, 547, 549, 551, 552, 553, 554, 556, 557, 558, 559, 560, 561, 562, 563, 564, 565, 566, 567, 568, 569, 570, 571, 572, 573, 574, 575, 577, 578, 579, 580, 583, 584, 585, 586, 587, 588, 589, 590, 591, 592, 593, 594, 595, 596, 597, 598, 599, 600, 601, 602, 603, 702, 703, 712, 718, 719, 720, 721, 722, 723, 724, 726, 727, 728, 729, 730, 731