Return to Collinwood
Talk

0
2,641pages on
this wiki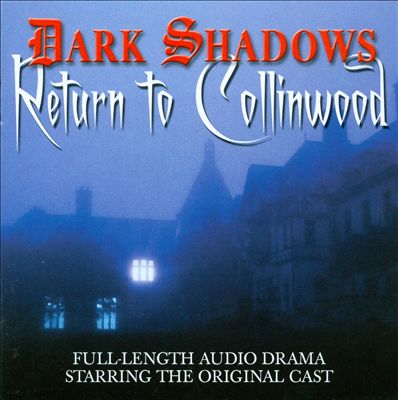 The 2003 Dark Shadows Festival was the premier of a new play featuring original cast members and bringing the tale of the Collins clan into the twenty-first century. More than 30 years after they first worked together, 11 members of the cast of Dark Shadows reunited on stage in Brooklyn, New York, on August 31, to perform a dramatic reading of the new play
Return to Collinwood
. It was written by
Jamison Selby
, son of
David Selby
.
The two-hour play became a crowd-pleaser, resolving mysteries established in the series and updating the lives of popular characters--including some not featured in the current story (such as Barnabas, Julia, and Joe). The next day, the cast reassembled in a Manhattan recording studio to record the play for release on CD.
The one-hour forty-six minute 2-disc audio drama is currently available through MPI Home Video.
Following the passing of matriarch
Elizabeth Collins Stoddard
, family and close friends gather at the great estate of Collinwood for a seance to contact her spirit. The wandering
Quentin Collins
returns from South America after an unsuccessful search for the clan's youngest heir,
David Collins
. As mysteries surrounding the Collins family unfold, including the reading of Elizabeth's will, the future of Collinwood is threatened with the unexpected arrival of
Cassandra Collins
. Alias Angelique, the immortal witch, Cassandra shares a secret with
Quentin about each other's dark, supernatural pasts. Quentin's girlfriend,
Maggie
, finds herself looking for answers to the strange and frightening events unravelling around her.
Memorable Quotes
Edit
Quentin Collins: A séance is a doorway. Some are best left locked shut.
Willie Loomis: Why does it always have to be a graveyard?!
Ned Stuart: Try not to scream in your sleep.
Carolyn Stoddard (reading her mother's will): Find Vicki, and bring her home.
Dramatis Personae
Edit
Background Information and Notes
Edit
Due to an argument with Roger Collins, David Collins has not set foot in Collinwood in over ten years, even missing his father's funeral. This suggests that Roger died during the 1990s.
Joe Haskell regained his sanity and married Maggie, but died ten years prior to Return to Collinwood (i.e., in about 1993).
Although history was successfully changed in the final TV storyline featuring the present-day characters, the events which sent Maggie to Windcliff Sanitarium still occurred.
Barnabas Collins and Julia Hoffman are said to be on a spiritual retreat in the mountains of Hong Kong. Presumably the pair are making sure to stay as far away from Collinwood as possible to prevent any chance of Angelique's curse on Barnabas being reactivated (one of its specifics being that he would harm his loved ones).
David Collins is said to be an archaeologist working in Peru - a nod to actor David Henesy, who currently lives in South America.
During the reading of Elizabeth Collins Stoddard's will, the mystery surrounding Victoria Winters (which was never revealed in the TV series) is finally resolved. Carolyn learns that her mother had a child out of wedlock; Victoria is actually Carolyn's older sister. In the late 1960s, Victoria was transported into the past and has not been seen since. In the will, Elizabeth implores Carolyn to find Victoria and bring her home. Victoria's biological father is not identified, however.