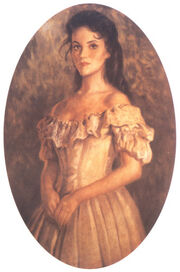 The portrait of Josette du Prés Collins came to America with Countess Natalie du Prés at the request of Barnabas Collins in 1790. It is logical to assume that the painting was relatively new, as it depicted Josette much as she appeared at that point in her life. The portrait hung in Josette's room at the Collins Manor House (8) and survived in that room until at least the year 1991 (5).
The first episode of the series presents a different portrait of Josette, showing her entire body. The painting was later replaced with the portrait of her torso and face (pictured).
Ad blocker interference detected!
Wikia is a free-to-use site that makes money from advertising. We have a modified experience for viewers using ad blockers

Wikia is not accessible if you've made further modifications. Remove the custom ad blocker rule(s) and the page will load as expected.