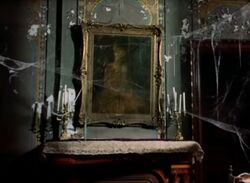 The portrait of Josette du Prés was commissioned some time prior to her death in July of 1797. Josette's lover, Barnabas Collins, hung the portrait in her bedroom at the original Collins family estate commonly referred to as the Old House. The portrait hung above the mantelpiece and remained there until as late as July of 1970. Barnabas once showed the portrait to his servant, Willie Loomis, remarking upon how similar Josette's appearance is to that of Collinwood's governess, Maggie Evans. What became of the portrait after the death of Barnabas is unknown.
Appearances
Edit
Ad blocker interference detected!
Wikia is a free-to-use site that makes money from advertising. We have a modified experience for viewers using ad blockers

Wikia is not accessible if you've made further modifications. Remove the custom ad blocker rule(s) and the page will load as expected.