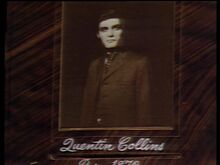 The photograph of Quentin Collins was found in an old album by Barnabas Collins. When the entire family was chased out of Collinwood by Quentin's ghost and went to go stay with Barnabas at The Old House, Barnabas found an old album with a photograph of Quentin inside. The photograph was taken just before Quentin left for Paris and Barnabas assumed that Quentin must have died soon after it was taken.
Ad blocker interference detected!
Wikia is a free-to-use site that makes money from advertising. We have a modified experience for viewers using ad blockers

Wikia is not accessible if you've made further modifications. Remove the custom ad blocker rule(s) and the page will load as expected.