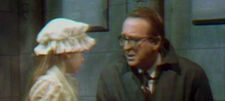 Peter Turgeon (December 25, 1919 - October 6, 2000) was the third actor to play Dr Dave Woodard in the original Dark Shadows.
Appearances
Edit
335, 336, 337, 338, 339, 340, 341, **343, 358, 359, 361, 362 (voice only after episode 341).
External links
Edit
Ad blocker interference detected!
Wikia is a free-to-use site that makes money from advertising. We have a modified experience for viewers using ad blockers

Wikia is not accessible if you've made further modifications. Remove the custom ad blocker rule(s) and the page will load as expected.