Original Music From Dark Shadows (Deluxe Edition)
Talk

0
Share
Ad blocker interference detected!
Wikia is a free-to-use site that makes money from advertising. We have a modified experience for viewers using ad blockers

Wikia is not accessible if you've made further modifications. Remove the custom ad blocker rule(s) and the page will load as expected.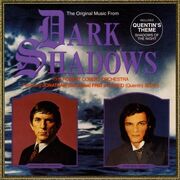 Original Music From Dark Shadows (Deluxe Edition)
is a single CD of soundtrack music that featured in the
original 1966-1971 daytime series
composed by
Robert Cobert
. The album featuring 18 tracks was released on CD by Varese Records on October 5th, 1999.
Tracks referenced in notes section correspond to alternate versions released in The Complete Dark Shadows Soundtrack Music Collection.
Track listing
Edit
Title
Length
Notes
1
Opening Theme: Dark Shadows / Collinwood
2:43
Hybrid:

"Closing Theme"
"76A: Same"

2
I'll Be With You, Always
(Narrated by Jonathan Frid)
2:23
Alternate instrumental version:
3
Josette's Theme
1:18
Alternate version:

"285: Josette's Music Box"

4
A Darkness At Collinwood
3:23
Hybrid:

"200: Barnabas Music - String Start To Woodwinds"
"201: "Dr. J & H" - Brass - Woodwind - Strings - Good Suspense - Curtains Out"

5
Meditations
(Narrated by Jonathan Frid)
2:28
Hybrid:

"198: Spooky Low Tremolo"
"2: String Start - To Woodwind Pattern - Poignant - "Maggie Evans"

6
Night of the Pentagram
2:42
Hybrid:

"217: 3 Stings - Dramatic Movement To Curtain"
"209: Celestial Almost Electronic Spook"
"132: Dramatic Sting - Much Used Curtain"

7
When I Am Dead
(Narrated by Jonathan Frid)
1:42
Instrumental version:

"20: Wall To Wall Neutral - Happy In Feeling"

8
No. 1 At The Blue Whale
2:23
Alternate version:

"72: Slow Juke Box - Blue Whale"

9
Shadows of the Night (Quentin's Theme)
(Narrated by David Selby)
2:04
Instrumental version:

"295: Old Phono #1 - Quentin's theme"

10
The Secret Room
2:28
Hybrid:

"253a: Ghost Love Song With Percussion"
"248a: Same With Percussion"

11
Epitaph
(Narrated by Jonathan Frid)
1:56
Hybrid:

"133: Anger - Tension "Halting Heart" Series Of Repeated Notes"
"168: Tremolo, Woodwinds, Spooky"

12
Séance
1:16
Hybrid:

"79: 4 Beats To Theremin Weird, Sad Tension"
"80: Theremin Wail"
"81: Theremin Whee"

13
I, Barnabas
(Narrated by Jonathan Frid)
2:12
Hybrid:

"145: Spooky, Low Wail, Zap Music"
"58: Sting To Brass, Combat Sound, Mysterioso"
"192: Theremin Curtain"

14
Back At The Blue Whale
2:09
Alternate version:
15
The Old House
2:20
Hybrid:

"41: Mystery, Pattern Ends With Sting Good Suspense"
"230: Waiting, Stealthy Tremolo On Bottom, Quiet Dramatic Patter On Top - Curtains Out"

16
Epilogue / Closing Theme
(Narrated by Jonathan Frid)
1:57
Hybrid:

"162: Neutral - Good To Bridge Scenes"
"Closing Theme"

17
Radio Interview (1968):
Jonathan Frid
Grayson Hall
Roger Davis
Humbert Allen Astredo
Robert Rodan
Don Briscoe
27:26
18
Radio Interview (1969):
David Selby
12:12