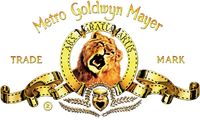 Metro-Goldwyn-Mayer (MGM) was a media production company established in 1914 and combined three powerful movie studios into one entity; Metro Pictures Corporation, Goldwyn Pictures Corporation and Louis B. Mayer Pictures. In April of 2006, News Corporation acquired the rights to all of MGM's properties.
As it pertains to the Dark Shadows franchise, MGM produced and distributed two full-length Dan Curtis Productions motion pictures that were released to theaters; House of Dark Shadows and Night of Dark Shadows. A third Dark Shadows film entitled Death of Dark Shadows was optioned to MGM in 1962, but the production company never approved the project and it was permanently shelved.
Production history
Edit
External links
Edit
Ad blocker interference detected!
Wikia is a free-to-use site that makes money from advertising. We have a modified experience for viewers using ad blockers

Wikia is not accessible if you've made further modifications. Remove the custom ad blocker rule(s) and the page will load as expected.