Ad blocker interference detected!
Wikia is a free-to-use site that makes money from advertising. We have a modified experience for viewers using ad blockers

Wikia is not accessible if you've made further modifications. Remove the custom ad blocker rule(s) and the page will load as expected.
Malcolm Marmorstein (January 1, 1929) was a writer on the original Dark Shadows. He is credited in 82 episodes.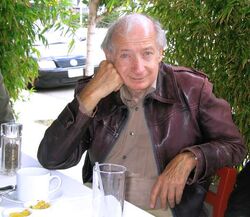 Marmorstein later wrote a comedic play about a reluctant vampire, titled Love Bites. In 1993, it was adapted into a movie of the same name and directed by Marmorstein himself. Adam Ant stars as the vampire, who wears an inverness cape and exhibits a hairstyle similar to the iconic 'Barnabas bangs.'
Writing credits
Edit
115, 119, 120, 121, 123, 124, 128, 130, 132, 133, 134, 137, 138, 140, 142, 145, 146, 149, 150, 151, 152, 158, 159, 160, 161, 163, 166, 168, 170, 172, 173, 176, 177, 178, 184, 185, 187, 188, 191, 195, 196, 197, 202, 203, 207, 210, 214, 215, 218, 220, 222, 224, 225/226, 227, 229, 231, 233, 237, 238, 241, 244, 247, 252, 256, 257, 258, 264, 267, 269, 270, 274, 277, 279, 282, 289, 291, 295, 297, 301, 305, 308, 309
External links
Edit