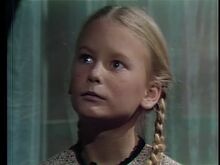 Lisa Ross (Alyssa Ross) is an American actor and model from the east coast. She appeared in episode 909 of Dark Shadows as the child ghost of Carolyn Stoddard. Her television work includes other daytime dramas and commercial advertisements. Alyssa has performed professionally onstage, notably in the very first production of Alice Childress's Wedding Band, starring Rubie Dee, Abbey Lincoln, and Moses Gunn at the University of Michigan's Professional Theatre in 1966. Alyssa has done extensive print work, including national catalogs, magazines, and a photo shoot with Twiggy.
External Links
Edit
Ad blocker interference detected!
Wikia is a free-to-use site that makes money from advertising. We have a modified experience for viewers using ad blockers

Wikia is not accessible if you've made further modifications. Remove the custom ad blocker rule(s) and the page will load as expected.