Ad blocker interference detected!
Wikia is a free-to-use site that makes money from advertising. We have a modified experience for viewers using ad blockers

Wikia is not accessible if you've made further modifications. Remove the custom ad blocker rule(s) and the page will load as expected.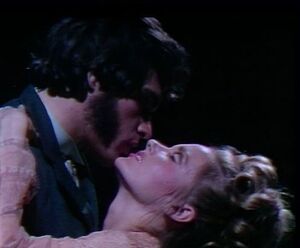 "I Wanna Dance With You" is a specially recorded song that featured in 873. The vocals are by Nancy Barrett and David Selby. The lyrics are a variation upon that of Pansy Faye's song, another track featured in the show, "I'm Gonna Dance For You".
"I Wanna Dance With You" Lyrics:
SELBY: May I have this dance?
BARRETT: Oh, I'd be delighted
'SELBY: Your so lovely tonight
BARRETT: Oh, thank you
SELBY: I wanna dance with you
SELBY: Wanna dance my cares away
BARRETT: I'll be so close to you
BARRETT: In your arms i'll always stay
BOTH: Our hearts will beat in tune
BOTH: In the rhythm of our love
SELBY: It's always been said
SELBY: That life is a song
BARRETT: So why don't we both
BARRETT: Just dance along
BOTH: Around and around together we two
BOTH: Oh, I wanna dance with you.
BARRETT: Oh, my darling
SELBY: Your beautiful, never leave me, never leave me
BARRETT: I love you always, hold me, forever
SELBY: Oh my darling
---
"I'm Gonna Dance For You" Lyrics:
I'm gonna dance for you
Gonna dance your cares away
I'll do the hootchie-coo
And the Ta-ra-boom-de-ay
I'll sing a happy song while
I dance the whole night long
When the music begins
I'll give you some spins
I'll even invent a step or two
So on with the show
You'll love it I know
Oh, I'm going to dance for you