I, Barnabas is a specially recorded spoken word track narrated by Jonathan Frid . Recorded in 1969, "I, Barnabas" was released as the thirteenth track on the album Original Music From Dark Shadows (Volume 1) in its LP and later compact disc printings. The music is composed by Robert Cobert with words written by Charles Randolph Grean.
Midnight-- A hush falls through the melancholy halls of Collinwood
The solemn moon casts dark shadows over the placid stillness of the old mansion.
I, Barnabas, lie in deep sleep on my bed of purple velvet.
Asleep--but awake to your thoughts, your feelings, your desires.
Alone--but cradled by the presence of your mind.
I hear your call, I feel your yearning.
I know that you want me. I know that you need me.
The oppressing weight of long lost time
Lies heavily upon me.
The deepening gloom that covers me,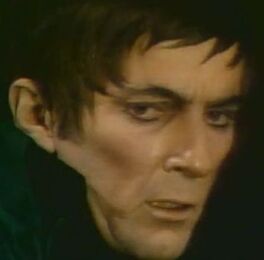 Binds me in my sepulchre.
I hear your call, I feel your yearning.
I must go to you.
I struggle to free the invisible chains that bind me.
I search in the embalmed darkness for a nebulous light
That will lead me to you.
I hear your call, I feel your yearning.
I am with you.
Ad blocker interference detected!
Wikia is a free-to-use site that makes money from advertising. We have a modified experience for viewers using ad blockers

Wikia is not accessible if you've made further modifications. Remove the custom ad blocker rule(s) and the page will load as expected.