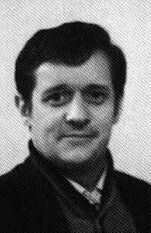 Gordon Russell (August 15, 1929 - January 19, 1981) was a writer on the original Dark Shadows.
Russell was born in Salem, Massachusettes. Originally an actor, Russell turned to writing. He also wrote for The Nurses and One Life to Live. He won an award from the Writers Guild of America for his play, Masterpiece.
Russell's first writing credit on Dark Shadows was in 1967 for episode 292. He would remain with the series until its cancellation in 1971, penning over 350 episodes making him the most prolific writer. His last writing credit was for the penultimate episode, 1244. He made a cameo appearance in the final episode, 1245, as Harris, The 2nd Footman. He later renamed his business company Second Footman Ltd. after the appearance. He died of cancer.
Episodes credited
Edit
292, 413, 419, 420, 424, 425, 464, 465, 471, 472, 476, 483, 490, 492, 496, 499, 505, 506, 513, 514, 517, 518, 524, 531, 544, 545, 552, 553, 557, 558, 559, 566, 567, 574, 575, 580, 584, 585, 592, 593, 600, 601, 651, 703, 704, 712, 728, 729, 730, 731, 1244