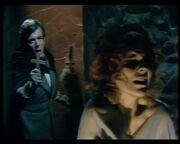 Gene Lindsey (October 26, 1936 - April 01, 1988) was an actor that portrayed Randall Drew , brother to Roxanne, in episodes 1143, 1149, 1150, 1153, and 1154/1155  of the original Dark Shadows.Edit
As the grieving brother, he was determined to discover what happened to his sister. Randall Drew was strangled to death by Gabriel Collins , who was hiding the fact that he could walk and did not need the wheelchair he used. Edit
Gene Lindsey had parts in the TV series "The Doctors" and "Love is a Many Splendored Thing" and the movie "All the President's Men".
Edit
Ad blocker interference detected!
Wikia is a free-to-use site that makes money from advertising. We have a modified experience for viewers using ad blockers

Wikia is not accessible if you've made further modifications. Remove the custom ad blocker rule(s) and the page will load as expected.