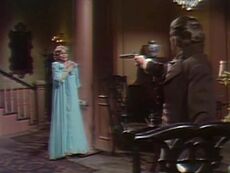 Flintlock pistols were introduced around 1630, and rendered matchlock and wheellock firearms obsolete. They were used by various members of the Collins family in 1795.
When Barnabas Collins challenged Jeremiah to a duel, flintlock pistols were used. Barnabas shot and mortally wounded Jeremiah. (384)
Barnabas later used a flintlock pistol to kill his wife, Angelique. (406)
Ad blocker interference detected!
Wikia is a free-to-use site that makes money from advertising. We have a modified experience for viewers using ad blockers

Wikia is not accessible if you've made further modifications. Remove the custom ad blocker rule(s) and the page will load as expected.