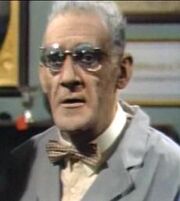 Ezra Braithwaite (c.1882-1969) was the latest in a long line of metalsmiths working in Collinsport since 1781. They created "almost all the silver for the Collins family" (684). The first piece of silver jewellery he created was a silver pentagram with the Latin inscription: "To guard you from the wrath of Cerberus" in 1897. Ezra said that he was 15 and a half years old when he made the silver pentagram. This medallion was found in 1969 by Barnabas Collins and Chris Jennings. They found the silver pentagram in a child's coffin, which the ghost of Beth Chavez pointed out to Chris. Barnabas contacted Mr Braithwaite, who was still alive, to get the information.
Unfortunately for Braithwaite, the message was intercepted by David Collins and unwittingly passed on to the ghost of Quentin Collins. Quentin arranged to meet Ezra at Collinwood before Barnabas. Braithwaite then had a heart attack and died before he could pass on the ledger containing the information about the sale of the silver pentagram to Barnabas (685).
Ezra Braithwaite wore two pairs of glasses, one for seeing people and the other for seeing things. He was wearing his glasses for seeing things when Quentin Collins first appeared to him; it was not until he changed glasses that he recognized Quentin and died (685). His ledger was stolen by David, who tore the page with the information Barnabas wanted out of the ledger.
It is not known if Braithwaite had any heirs to pass on the family business to, but probably not, as he only has part-time help (684). His father, Ezra Julius Braithwaite (d.1901), had a way with candlesticks (685).
When Barnabas travelled back in time to 1897, he spoke to young Ezra Braithwaite on the telephone. He finally got the information he had sought in 1969. Braithwaite told him that Beth Chavez had ordered the silver pentagram and charged it to Quentin's account. Barnabas told him he was going to be a fine addition to his father's company (764).
Appearances
Edit