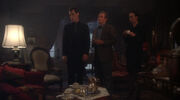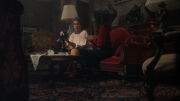 The drawing room was the primary area of congregation for members of the Collins family and their guests inside the Collinwood mansion. The primary seating area of the room included a sofa or settee facing a fireplace and several chairs. Double doors on either side of the settee provided access to the Great Hall. Glass-paneled doors led to an outside area.
Beginning with Episode 2, the drawing room was redecorated with a new settee and chairs as well as additional draperies.
Ad blocker interference detected!
Wikia is a free-to-use site that makes money from advertising. We have a modified experience for viewers using ad blockers

Wikia is not accessible if you've made further modifications. Remove the custom ad blocker rule(s) and the page will load as expected.