Ad blocker interference detected!
Wikia is a free-to-use site that makes money from advertising. We have a modified experience for viewers using ad blockers

Wikia is not accessible if you've made further modifications. Remove the custom ad blocker rule(s) and the page will load as expected.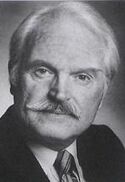 Dennis Patrick Harrison
(March 18th, 1918 – October 13th, 2002) was an American actor who starred on the original
Dark Shadows
. From 1966-1967 he played the role of the unscrupulous con-man
Jason McGuire
, later returning to play the part of
Paul Stoddard
.
In the MGM movie House of Dark Shadows, Dennis Patrick played the part of Collinsport sheriff George Patterson. He was married to Barbara Cason from 1970 until she died in 1990.
Dennis Patrick tragically died in a house fire at his home in 2002.
Appearances
Edit
193 194 195 196 197 198 199 200 201 202 203 204 205 206 207 208 209 210 211 213 215 216 217 218 219 220 224 228 232 233 237 242 243 244 246 249 254 257 259 264 266 269 270 271 272 273 274 275 276
888 891 892 893 898 899 900 901 902 906 907 908 909 917 929 930 931 933 953
External Links
Edit