Ad blocker interference detected!
Wikia is a free-to-use site that makes money from advertising. We have a modified experience for viewers using ad blockers

Wikia is not accessible if you've made further modifications. Remove the custom ad blocker rule(s) and the page will load as expected.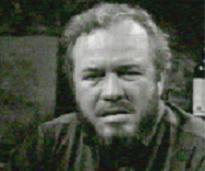 David Ford (October 30, 1925 – August 7, 1983) took over the role of Sam Evans from Mark Allen from August 1966 until the character was killed off in 1968. He also played Andre DuPres in the 1795 storyline.
In real life, Ford was married to Nancy Barrett for two years during the run of Dark Shadows. Outside of Dark Shadows, Ford is perhaps best known for the role of John Hancock in the musical 1776 which he essayed on Broadway and then on film along with another Dark Shadows alum, Virginia Vestoff.
He died from a heart attack in 1983.
Appearances
Edit
Sam Evans (70 episodes) 35, 36, 37, 39, 40, 41, 42, 43, 46, 47, 49, 52, 55, 56, 58, 60, 61, 62, 65, 67, 73, 78, 79, 85, 94, 97, 103, 104, 107, 126, 127, 130, 133, 134, 138, 139, 140, 142, 143, 146, 164, 181, 199, 200, 222, 224, 225/226, 227, 229, 230, 231, 234, 235, 236, 239, 247, 248, 255, 340, 341, 342, 498, 499, 508, 509, 512, 515, 517, 518, 530