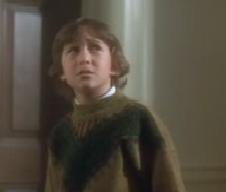 David Collins
was the son of
Roger
and
Laura Collins
. He was also the nephew of
Elizabeth Stoddard
, and the cousin of
Carolyn Stoddard
and
Daphne Collins
. He was raised by his father and aunt Elizabeth, as his mother (described as a
witch
) had been institutionalised in England for years after trying to kill both him and herself (
4
).
In 1990 Victoria Winters arrived at Collinwood to accept the position of David's governess, who he angrily refused to accept. David was something of a practical joker, and his cousin Carolyn was hoping that Victoria might be able to bring him under control (half-jokingly suggesting she use a whip and chair) (1). He apparently had some kind of psychic link with his mother, at one point performing a ritual which caused his father great pain (4). David was one of the first people to see the ghost of Sarah Collins, but was not frightened by her appearance and became a friend of hers.
Ad blocker interference detected!
Wikia is a free-to-use site that makes money from advertising. We have a modified experience for viewers using ad blockers

Wikia is not accessible if you've made further modifications. Remove the custom ad blocker rule(s) and the page will load as expected.