Dark Shadows 30th Anniversary Collection
Talk

0
Share
Ad blocker interference detected!
Wikia is a free-to-use site that makes money from advertising. We have a modified experience for viewers using ad blockers

Wikia is not accessible if you've made further modifications. Remove the custom ad blocker rule(s) and the page will load as expected.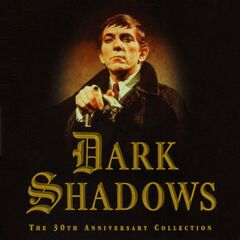 Dark Shadows 30th Anniversary Collection
features musical compositions specially composed for
Dark Shadows (1966)
. The album featuring 22 tracks was released on CD by Varese Records on May 21st,
1996
.
Track listing
Edit
Title
Artist
Length
1
First Episode Opening Voice-Over / Collinwood
The Robert Cobert Orchestra
featuring Alexandra Moltke
0:53
2
Dark Shadows Theme
3
Quentin's Theme
The Robert Cobert Orchestra
2:09
4
Ode to Angelique
The Robert Cobert Orchestra
2:43
5
Missy
The Robert Cobert Orchestra
2:31
6
Theme From Dark Shadows
The Robert Cobert Orchestra
2:46
7
Josette's Music Box
The Charles Randolph Grean Sounde
2:02
8
No. 1 At The Blue Whale
The Charles Randolph Grean Sounde
2:31
9
Back At The Blue Whale
The Charles Randolph Grean Sounde
2:00
10
Quentin's Theme
The Charles Randolph Grean Sounde
2:01
11
Dark Shadows Music Cue Medley I
The Robert Cobert Orchestra
5:25
12
I Wanna Dance With You
The Robert Cobert Orchestra
featuring David Selby & Nancy Barrett
2:20
13
Pansy's Theme Medley
The Robert Cobert Orchestra
2:57
14
Sarah's Theme (London Bridge)
The Robert Cobert Orchestra
1:35
15
Joanna
The Robert Cobert Orchestra
1:44
16
Dark Shadows Music Cue Medley II
The Robert Cobert Orchestra
8:06
17
Last Episode Closing Voice-Over / Dark Shadows Theme
The Robert Colbert Orchestra
featuring Thayer David
1:07
18
Barnabas Theme From Dark Shadows
The First Theremin Era
2:50
19
Quentin's Theme
The Robert Cobert Orchestra
2:46
20
Dark Shadows 1969 Vampire Fan Club Greeting
Jonathan Frid
21
Radio Spots: House of Dark Shadows
1:29
22
Barnabas
The Vampire State Building
3:03