Dark Shadows: The Revival Series (Original MGM Television Soundtrack)
Talk

0
Share
Ad blocker interference detected!
Wikia is a free-to-use site that makes money from advertising. We have a modified experience for viewers using ad blockers

Wikia is not accessible if you've made further modifications. Remove the custom ad blocker rule(s) and the page will load as expected.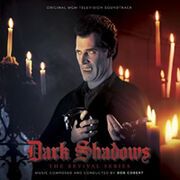 Dark Shadows: The Revival Series (Original MGM Television Soundtrack), or CPT1002, is a two CD release of music from the 1991 Dark Shadows Revival Series by Bob Cobert. The soundtrack was released exclusively through Screen Archives Entertainment, and features selected music from all twelve episodes of the series.
Liner notes for the release were written by Jon Burlingame and booklet design was by Jim Titus.
Track Listing
Edit
DISC ONE: Episode 1 (PILOT):
1. Dark Shadows Theme (Pilot Main Title) - :30
2. Collinwood (Pilot Opening) - 1:00
3. Discovering The Secret Room - 2:13
4. Coming Home - 1:14
5. David's Spider - :10
6. The Old House Basement - :59
7. Doctor Hoffman Arrives - 1:31
8. Barnabas' Coffin - 1:15
9. Transcending Time - 2:04
10. Daphne & Barnabas - 2:05
11. Walking Victoria Home - 1:35
12. Dark Shadows Theme (Pilot End Title) - 1:01
13. Dark Dream - :53
14. Dark Shadows Theme (Series Main Title) - 1:12
15. Collinwood - 1:11
16. Summoning Daphne - 3:37
17. Staking In The Stable - 6:03
18. Opening The Coffin - 1:27
19. Julia's Experiments - 1:40
20. Darkness At Widows' Hill - 1:26
21. David's Nightmare - 1:12
22. A New Hope - 2:04
23. Barnabas & Victoria - 3:02
24. Sunrise - 3:33
26. Ruined Photographs - 1:03
27. Romantic Notions - :52
28. Angelique From The Flames - 2:23
DISC TWO: Episode 6:
1. Costume Party Drama - 3:02
2. Barnabas & Elizabeth - 1:21
3. Seducing Carolyn - 3:04
4. Victoria Meets Peter - 2:50
5. Joshua Interviews Victoria - :47
8. Collinwood/Josette's Arrival - 2:00
9. Josette, Barnabas & Angelique - 5:02
10. Phyllis Wick - 3:25
11. Josette & Jeremiah - 2:42
12. Brothers At Odds - 1:50
13. Prelude To Death - 1:38
14. Barnabas & Sarah - 2:59
15. Duel - 5:06
16. Jeremiah's Resurrection - 5:18
17. Mausoleum Secret Room - 1:42
18. Finding Millicent - 1:01
19. Dark Romance - 5:55
23. Discovering Barnabas - 5:32
24. A Tragic Family - 2:56
25. Goodbye - 2:57
26. Climax - 8:33
27. Dark Shadows Theme (Series End Title) - :39
Bonus Tracks:
28. Bumper #1 - :05
29. Bumper #2 - :05
30. Bumper #3 - :05
31. Bumper #4 - :07
32. Bumper #5 - :07
33. Bumper #6 - :07