Ad blocker interference detected!
Wikia is a free-to-use site that makes money from advertising. We have a modified experience for viewers using ad blockers

Wikia is not accessible if you've made further modifications. Remove the custom ad blocker rule(s) and the page will load as expected.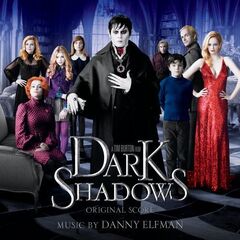 Dark Shadows: Original Score
features incidental music specially composed for
Dark Shadows (2012)
. The film was scored by long-time Burton collaborator
Danny Elfman
. The album featuring 21 tracks of compositions from the film was released on May 8, 2012.
Track listing
Edit
| | Title | Length |
| --- | --- | --- |
| 1 | Dark Shadows - Prologue (Uncut) | 7:52 |
| 2 | Resurrection | 2:54 |
| 3 | Vicki Enters Collinwood | 1:21 |
| 4 | Deadly Handshake | 2:14 |
| 5 | Shadows (Reprise) | 1:08 |
| 6 | Is It Her? | 0:43 |
| 7 | Barnabas Comes Home | 4:18 |
| 8 | Vicki's Nightmare | 1:26 |
| 9 | Hypno Music | 0:47 |
| 10 | Killing Dr. Hoffman | 1:14 |
| 11 | Dumping the Body | 0:58 |
| 12 | Roger Departs | 2:33 |
| 13 | Burn Baby Burn / In-Tombed | 2:49 |
| 14 | Lava Lamp | 2:17 |
| 15 | The Angry Mob | 4:40 |
| 16 | House of Blood | 3:38 |
| 17 | Final Confrontation | 2:20 |
| 18 | Widows' Hill (Finale) | 3:47 |
| 19 | The End? (Uncut) | 2:42 |
| 20 | More the End? | 1:55 |
| 21 | We Will End You! | 1:09 |