Dark Shadows: Original Motion Picture Soundtrack
Talk

0
Share
Ad blocker interference detected!
Wikia is a free-to-use site that makes money from advertising. We have a modified experience for viewers using ad blockers

Wikia is not accessible if you've made further modifications. Remove the custom ad blocker rule(s) and the page will load as expected.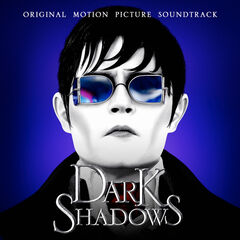 Dark Shadows: Original Motion Picture Soundtrack
is the official soundtrack to accompany release of
Dark Shadows 2012
.
It features a score of several contemporaneous 1970s rock and pop songs, along with others from later and slightly earlier, including "Nights in White Satin" by The Moody Blues, "Top of the World" by The Carpenters, "You're the First, the Last, My Everything" by Barry White, "I'm Sick of You" by Iggy Pop, "Season of the Witch" by Donovan, "Get It On (T. Rex song)|Get It On" by T. Rex and "Paranoid" by Black Sabbath. Alice Cooper, who makes a cameo in the film, sings "No More Mr. Nice Guy" and "Ballad of Dwight Fry". A cover of the Raspberries' song "Go All the Way" by The Killers also plays over the end credits. The soundtrack, featuring 11 songs (including two score pieces by Danny Elfman, and Depp's recitation as Barnabas of several lines from "The Joker " by the Steve Miller Band) was released on May 8 as a download, and on various dates as a CD, including on May 22 as an import in the United States.
Track listing
Edit
| | Title | Artist | Length |
| --- | --- | --- | --- |
| 1 | Nights in White Satin | The Moody Blues | 4:26 |
| 2 | Dark Shadows – Prologue | Danny Elfman | 3:56 |
| 3 | I'm Sick of You | Iggy Pop | 6:52 |
| 4 | Season of the With | Donovan | 4:56 |
| 5 | Top of the World | The Carpenters | 3:01 |
| 6 | You're the First, the Last, My Everything | Barry White | 4:35 |
| 7 | Bang a Gong (Get It On) | T. Rex | 4:26 |
| 8 | No More Mr. Nice Guy | Alice Cooper | 3:08 |
| 9 | Ballad of Dwight Fry | Alice Cooper | 6:36 |
| 10 | The End?" | Danny Elfman | 2:30 |
| 11 | The Joker | Johnny Depp | 0:17 |