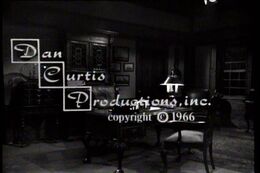 Dan Curtis Productions is the movie production company established by Dan Curtis, creator of the ABC soap opera, Dark Shadows. Several movies and television projects have been created through Dan Curtis Productions including:
Though the Dan Curtis Production logo would change many times over the course of various series, the logo found at the end of most episodes of the original Dark Shadows uses the font Rondo.
The first full-length Dark Shadows movie, House of Dark Shadows was distributed exclusively through MGM.
The end-title credits for each episode of Dark Shadows credited Dan Curtis Productions along with the copyright year of 1966 for some time into 1967 but eventually changed with the year it was being aired. In episode 345, the credits finally said 1967. In episode 349, they revert to 1966. In episode 403, the credits finally say 1968. In episode 671, the credits say 1969.
Ad blocker interference detected!
Wikia is a free-to-use site that makes money from advertising. We have a modified experience for viewers using ad blockers

Wikia is not accessible if you've made further modifications. Remove the custom ad blocker rule(s) and the page will load as expected.