Ad blocker interference detected!
Wikia is a free-to-use site that makes money from advertising. We have a modified experience for viewers using ad blockers

Wikia is not accessible if you've made further modifications. Remove the custom ad blocker rule(s) and the page will load as expected.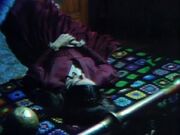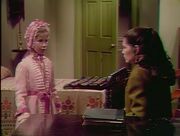 The Collinsport Afghan is a distinctive crocheted blanket that eventually appeared in the homes of nearly every resident of Collinsport.
The blanket dates back to the 18th century as seen in the 1795 storyline at The Old House (at least) and was still present in the 20th century. It decorated the couch in the Evans Cottage, lay on the beds at the Collinsport Inn, and even the deathbed of Charles Delaware Tate. The afghan also appeared in Parallel Time, where it decorated the homes of both Bramwell Collins and Bruno Hess.
The afghan can be interpreted symbolically, as a visual representation (or symbol) of, the "blanket of evil" that covers Collinwood and Collinsport.  Or, alternatively, the afghan may be interpreted literally, as an insignificant yet obvious prop that was simply over-used.
There is a second, less used afghan with a yellowish border that can be seen in various locations, such as Jeff Clark's apartment (602) and Chris Jennings' hotel room (651).
Appearances
Edit
297, 298, 303, 307, 314, 342, 366, 367, 383, 400, 500, 524, 529, 532/533, 537, 541, 561, 573, 574, 577, 592, 599, 607, 611, 616, 652/653, 654, 670, 671, 673, 674, 675, 677, 678, 683, 687, 692, 695, 703, 758, 765, 772, 783, 809, 810, 811, 818, 822, 828, 829, 866, 877, 878, 892, 906, 919/920/921, 922, 962, 986, 997, 1032, 1033, 1034, 1035, 1036, 1038, 1042, 1043, 1044, 1045, 1046, 1047, 1048, 1049, 1051, 1059, 1060, 1111, 1118, 1120, 1129, 1213, The Enemy Within