Dark Shadows The Web Series is an on-going fan produced serial that premieres in January 2011. The series is shot in Austin, Texas and performed mainly by actors from Weird City Theatre Company.

Dark Shadows follows the Collins family and the supernatural events surrounding them. The Web Series is based upon the original Dan Curtis production. New Episodes premiere on Fridays starting in January 2011.
thumb|300px|right|Dark Shadows Web Series Trailer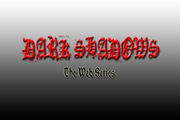 This category currently contains no pages or media.