Barnabas, Quentin and the Nightmare Assassin
Talk

0
Share
← Barnabas, Quentin and the Nightmare Assassin →
Number

18

Publisher
Timeline

1870

Author
Released

June 1970

Dark Shadows Barnabas, Quentin and the Nightmare Assassin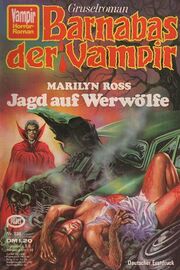 Barnabas, Quentin and the Nightmare Assassin is the eighteenth of the novels written by Marilyn Ross as part of a separate continuity.
Synopsis
Edit
Knocked unconscious in an auto accident, Carolyn awakens in 1870 and meets Barnabas and Quentin. Suffering under the curse of the werewolf, Quentin arranges to be assassinated but later changes his mind. Once the die is cast however, the assassin may be unstoppable.
Background information and notes
Edit
Also published in Germany in 1977 with a cover illustration by N. Lutohin.
Ad blocker interference detected!
Wikia is a free-to-use site that makes money from advertising. We have a modified experience for viewers using ad blockers

Wikia is not accessible if you've made further modifications. Remove the custom ad blocker rule(s) and the page will load as expected.