Ad blocker interference detected!
Wikia is a free-to-use site that makes money from advertising. We have a modified experience for viewers using ad blockers

Wikia is not accessible if you've made further modifications. Remove the custom ad blocker rule(s) and the page will load as expected.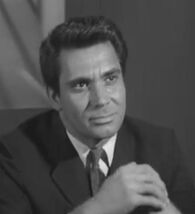 Anthony George
(January 21, 1921 - March 16, 2005) played the second
Burke Devlin
and
Jeremiah Collins
in the original
Dark Shadows
. Born Octavio Gabriel George in Endicott, New York, he anglicized his name when he entered show business. Mr. George had extensive television experience, having played in many crime dramas and westerns such as
Death Valley Days
,
Tales of the Wells Fargo
, and
The Untouchables
as well as being a regular in
Checkmate
. He also appeared in movies such as
The Ten Commandments
. He would later play in
Search for Tomorrow
and
One Life to Live
.
Anthony George died in California at the age of 84 from emphysema.
Appearances
Edit
262, 267, 270, 271, 272, 273, 279, 280, 281, 283, 285, 288, 292, 293, 294, 295, 298, 299, 300, 301, 302, 303, 304, 307, 309, 316, 320, 327, 333, 334, 335, 336, 338, 342, 343, 344