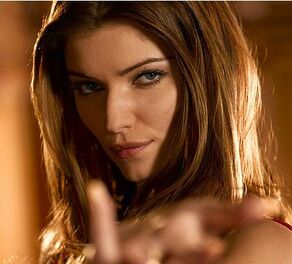 Angelique Collins
was a witch in the
WB Pilot
of
Dark Shadows
who transformed
Barnabas Collins
into a
vampire
. She was portrayed by
Ivana Milicevic
. Very little of her background was revealed in the pilot, although we see Barnabas react with loathing at her mention.
David Collins
is shown pulling what seems to be a dagger out of an old corpse, whereupon a spectre-like vision of Angelique appeared. The end of the pilot shows
Victoria Winters
hitting what seems to be Angelique, who goes through the windshield. The two women ended face to face, screaming--one in terror and the other in what seemed like hate.
Ad blocker interference detected!
Wikia is a free-to-use site that makes money from advertising. We have a modified experience for viewers using ad blockers

Wikia is not accessible if you've made further modifications. Remove the custom ad blocker rule(s) and the page will load as expected.